All the Club's boating facilities are available for the use of Senior Members whose boats are registered with the Club. Details are available from the Office or the Marine Manager regarding marina berths.
The Marina rental cost is very competitive with other marinas and the current rates are available below. Slipping of boats for maintenance is also available at reasonable cost.
Contact BYC Bosun regarding all slipway bookings and operations.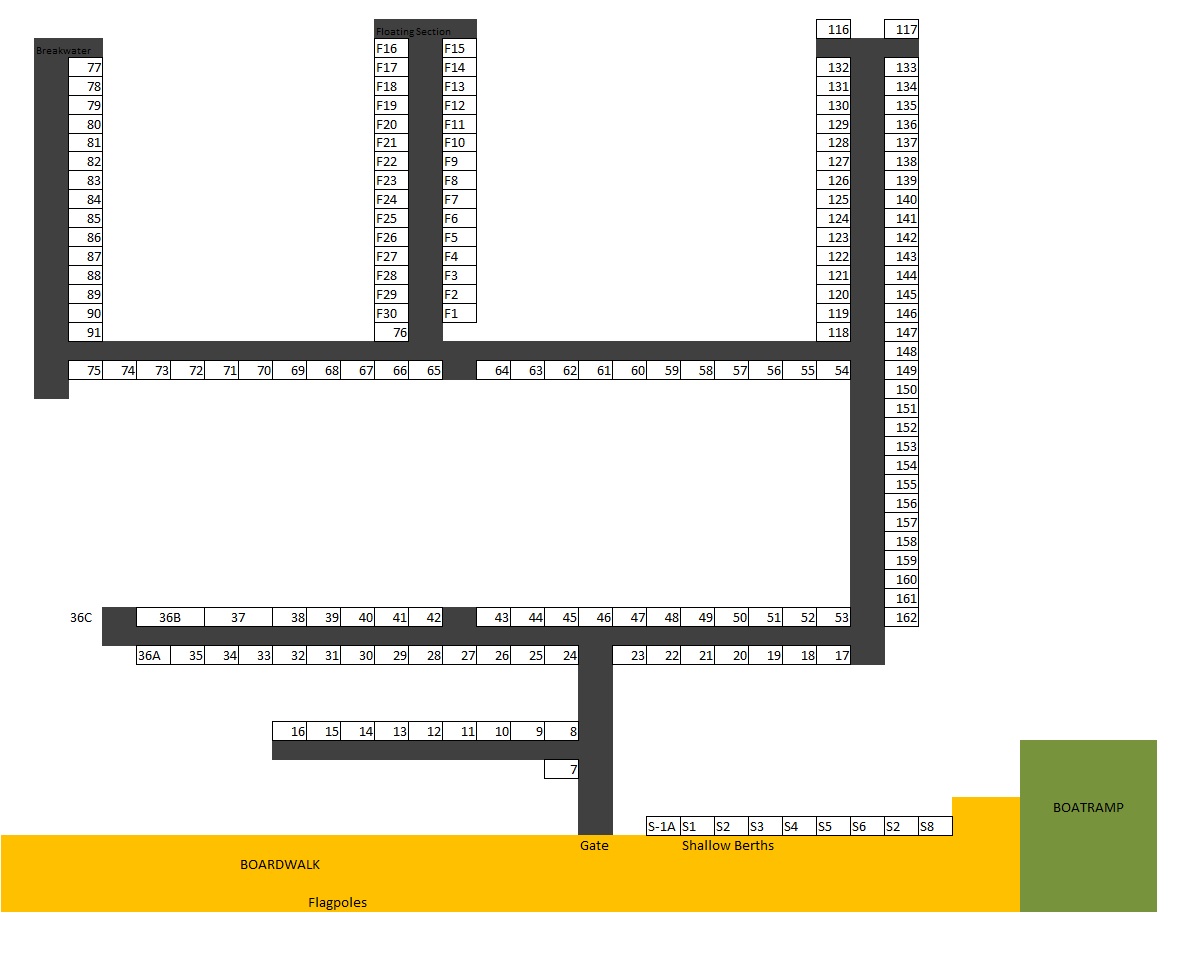 | | | | |
| --- | --- | --- | --- |
| | | | |
|   |   |   |   |
| Floating Berth | 18 metre berth | $ 8568 | $ 785 |
| Floating Berth | 17 meter berth | $ 8091 | $ 742 |
| Floating Berth | 16 metre berth | $ 7618 | $ 698 |
| Floating Berth | 15 metre berth | $ 7139 | $ 654 |
| Floating Berth | 14 metre berth | $ 6666 | $ 611 |
| Floating Berth | 13 metre berth | $ 6129 | $ 562 |
| Floating Berth | 12 metre berth | $ 5513 | $ 505 |
| Floating Berth | 11 metre berth | $ 4824 | $ 442 |
| Fixed Pile Berth | vessels up to 9 metres | $ 2764 | $ 253 |
| Fixed Pile Berth | | $ 2902 | $ 266 |
| Fixed Pile Berth | vessels 10 to 11 metres  | $ 3190 | $ 292 |
| Fixed Pile Berth | vessels 11 to 12 metres  | $ 3480 | $ 319 |
| Fixed Pile Berth | vessels 12 to 13 metres  | $ 3770 | $ 346 |
| Fixed Pile Berth | vessels 13 to 14 metres  | $ 4060 | $ 372 |
| Fixed Pile Berth | vessels 14 to 15 metres | $ 4350 | $ 399 |
| Fixed Pile Berth | vessels 15 to 16 metres | $ 4640 | $ 425 |
| Fixed Pile Berth | vessels 16 to 17 metres | $ 4930 | $ 452 |
| Fixed Pile Berth | vessels 17 to 18 metres | $ 5252 | $ 481 |
| Fixed Pile Berth | vessels 18 to 19 metres | $ 5544 | $ 508 |
| Semi Floating | vessels up to 9 metres | $ 3040 | $ 279 |
| Semi Floating | vessels 9 to 10 metres | $ 3192 | $ 293 |
| Semi Floating | vessels 10 to 11 metres | $ 3509 | $ 322 |
| Semi Floating | vessels 11 to 12 metres | $ 3828 | $ 351 |
| Semi Floating | vessels 12 to 13 metres | $ 4147 | $ 380 |
| Semi Floating | vessels 13 to 14 metres | $ 4466 | $ 409 |
| Shallow - Piled | vessels up to 9 metres  | $ 2290 | $ 210 |
| Shallow - Piled | vessels 11 metres | $ 2799 | $ 257 |
Live-Aboard surcharge - Members $4.00 per metre - boat length
For example:
12m $48.00 per week (6.86 per day)
16m $64.00 per week (9.14 per day)
Other Charges: Lockers Annual fee $459