Bellerive Yacht Club's team competing at this week's Sealink Magnetic Island Race Week in the modified Farr 40 Ponyo have finished fourth in Sealink Division 1, losing a podium place on a countback.
Skippered jointly by Hughie Lewis and Gary Cripps, Ponyo was one of four boats that finished the six-race series on a net 24 points, two points behind the winner, the smallest boat in the fleet, Tim Campbell's Corby 25 Private Equity from the Royal Yacht Club of Victoria.
Campbell, son of Hobart-based yachting journalist Peter Campbell, had towed single-handed overland from Melbourne to Townsvillle.
Ponjo and her crew had enjoyed consistent results (and, of course, the glorious weather of Far North Queensland) and was in second place on the leader board going into the final race with placings of 3-9-2-5-5..'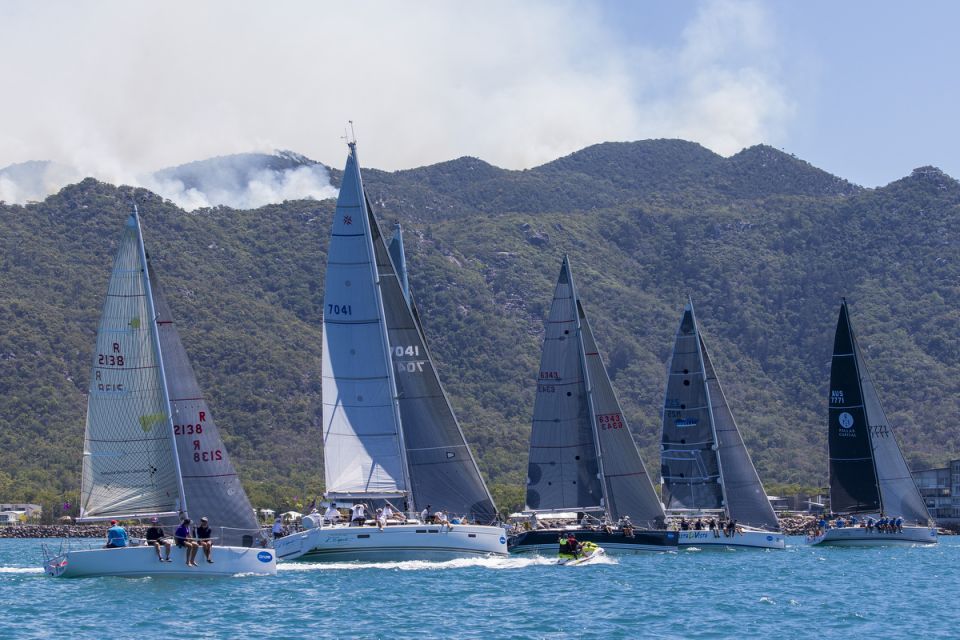 However, on a day of listless breezes, while they again took line honours Ponyo ended up 11th and last on corrected time. The end result was fourth place overall.
In contrast, Private Equity, which had placed last in the long round-the-island race the previous day, enjoyed the windward/leeward legs and square spinnaker runs of race six to finish second on corrected time. This proved enough to win the series.
Private Equity's placings were 4-4-(11)-1-11-2, 22 points, second placing going to local boats Mako Sunglasses and #Spank, both on 24 points.
Remarkably, Sealink Division 1 produced six different winners and five different boats finished last in a race. Only six points separated first and 10th placed boats in the fleet overall.
This year's Sealink Magnetic Island Race Week, with its many social activities adding enjoyment to the good warm weather racing, attracted a record fleet and although most boats and crews came from Queensland clubs, Division 1 had yachts from Queensland, New South Wales, Victoria and Tasmania competing.
Words: Peter Campbell
Photos: Andrea Francolini
6 August 2019